Biol 5 Synoptic Essay Titles On Pride
Rabbi's book simplifies Ten Commandments for children
Published: Thursday, 30 November 2017 10:00
Written by Marcia Horn Montgomery, Contributing Writer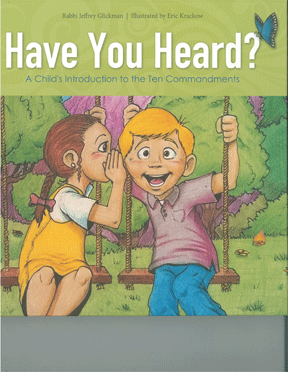 "Have You Heard?" by Rabbi Jeffrey Glickman, 10 color 
illustrations, 32 pp., Schiffer Publishing Ltd., $14.99
Explaining the Ten Commandments to a child can be difficult, but Rabbi Jeffrey Glickman makes it easy in his new book "Have You Heard?" Translating each commandment from the original Hebrew, Rabbi Glickman pares each one to its very basic premise.
Formerly a rabbi at Temple Adath Joseph in St. Joseph, Missouri, where he served from 1989 to 1995, Rabbi Glickman is now in his 23rd year at Temple Beth Hillel in South Windsor, Connecticut. He said he loved his years in St. Joseph, where three of his children were born.
Although he was made an honorary member of Temple Adath Joseph, he said he is a paying member because he wants to support the congregation.
He and his wife Mindy, between the two of them, have seven children ranging in age from 17 to 30.
This is the 57-year-old Reform rabbi's first book, but he has 24 board games on the market, all based on his sermons.
The book is for ages 5 to 8 and is one that Rabbi Glickman hopes children will want to return to over and over, whether they can read or not, and show it to their friends. The illustrations, by Eric Krackow, convey each commandment as Rabbi Glickman presents them.
"The artist went so above and beyond what I ever imagined for these pictures," said Rabbi Glickman. "They're so simple that they just warm you in the right places."
Plus, there's a little surprise in every picture — children (and adults) will have fun looking for it.
The children's text is in big, bold letters and Rabbi Glickman begins each page with "Have you heard?" For example for the fifth commandment, honor thy father and mother, he writes: Have you heard? Your parents are a part of you.
That's what the parents read to the child out loud. The smaller print at the bottom of each page is for parents to read to themselves, giving them tips on how to explain to their child what this means.
"I don't want this to be the book talking to the kid; I want the parents to talk to the kid," Rabbi Glickman said. "I want the parents to look like they're the heroes, like they're the ones who know — not that the book knows."
There are a lot of adults entering into parenthood who know there's something good about religion and want to teach it to their children, but don't know where to start, Rabbi Glickman said. What comes to mind are the Ten Commandments.
But how do you explain "Thou shalt not bear false witness against thy neighbor" or "Thou shalt not commit adultery" to a child?
For bearing false witness, Rabbi Glickman tells the child: You can remember what you see.
Then, for parents, he asks them to explain that it's good to remember what you see and tell people about it. You don't have to make things up because the things you see are amazing enough.
Rabbi Glickman begins the chapter on adultery with "Promises are treasures." He said according to the rabbis adultery isn't really about sex. At its essence it's about breaking a marital vow or promise.
"This is a wonderful way for parents to talk to their kids about faith that's not imposing," he said. "They are commandments, but I don't say you have to do this or that. But it does have that force. I just say 'Have you heard?' Have you heard, this is something we've got to do.
"I did not want to call it the 10 suggestions or the 10 tips for life or 10 good ideas, because we're commanded to do them."
With this book, Rabbi Glickman said he paves the way to the Ten Commandments as they are written so when children learn them in Bible class, they will understand them better for having read the book.
Another difficult commandment to teach to young children is "Thou shalt not kill." Rabbi Glickman writes "Don't waste."
"This one is tricky because we're allowed to have chicken for dinner, so what does it mean? I thought the simplest essence of this very difficult commandment is don't waste life and that opens up a whole slew of other things," he said.
He calls this an adult book disguised as a children's book. He said there is even an adult group using it as their book of the month.
Since Rabbi Glickman works with families so much and teaches these concepts over and over, he said he decided to write them down to see if he could make a unified whole out of them.
"I wanted to make it really easy for parents to address 10 important concepts that they want their kids to know, which happen to be in the Ten Commandments," he said. "I wanted them to be accessible. I work with lots of little kids and little kids don't understand; they want a couple of basic things."
"Have You Heard?" is available in bookstores, Amazon or directly through the publisher at schifferbooks.com.
Northern Ohio Recovery Association
The Northern Ohio Recovery Association, Inc. (NORA) is a community based substance abuse prevention and peer recovery support organization. NORA provides culturally relevant chemical dependency services with dignity and respect to youth, adults and families in Northeast Ohio.
Founded in 1996, in Cleveland, Ohio, NORA supports and provides prevention, treatment, and recovery services in Cuyahoga, Lorain, and Summit counties. The territory is large – 1,360 square miles – comprising a population of two million people. Akron, Cleveland and Lorain/Elyria are the primary areas we serve. Akron is the birthplace of Alcoholics Anonymous.
Executive Director
Anita Bertrand-Bradley MSW, LSW, LICDC – CS
Bio
Board of Directors
Carolyn Cleveland
President
Gregory Jones
Vice President
Onia R. Daniel
Secretary
Michele Elba
Angela Gissentaner
Wanda Snype Williams
Dr. Donald See, PhD
Associate Director
William Tobin
Finance Director